A friend just brought this meme to my attention:
I'm elaborating on problems with the (relatively new) concept of activism and also about the story of the righteous few in my manuscript. For now, here's an excerpt concerning the latter (from my chapter in AK Press' book We Are Many):
Too often we get stuck in a story of the righteous few. Radicals tend to become radicals because we become disillusioned with aspects of the dominant culture. When you feel like you're up against the culture, it's easy then to develop an inclination to separate yourself from that culture. When we begin to become aware of the destructive impacts of capitalism, racism, sexism, and whatever other social systems we encounter that we see perpetuating oppression, we don't want to be part of it. We feel a moral repugnance and a desire to not cooperate with injustice.

However, this desire to separate ourselves from injustice can develop into a general mentality of separation from society more generally. In other words, when we see the dominant culture as a perpetrator of injustice, and we see society as the storehouse of the dominant culture, then our desire to separate ourselves from injustice can easily develop into a mentality of separating ourselves from the mainstream of society. With the mainstream seen as bad, we begin to look for ways to distinguish ourselves and our groups from anything mainstream. We begin to notice, highlight, exaggerate, and develop distinctions between ourselves and the mainstream, because these distinctions reinforce our radical identity. The distinguishing features go far beyond nonparticipation in those aspects of the dominant culture that we find offensive.

Radicals may start to adorn themselves with distinguishing features to express separation from society, and also to flag other radicals . . . In the story of the righteous few, success itself becomes suspect. If a group or individual is embraced by a significant enough portion of society, it must be because they are not truly revolutionary or because their message has been "watered down." It seriously messes with radicals' heads when some of our ideas start to become popular! We are so accustomed to being the most radical kid on the block, and suddenly people we've never met are coming out of the woodwork, marching in the streets with us, and spouting some of the lines we've been saying for years. Frankly, it can lead to a bit of an identity crisis.
The full article can be read here.
In case you missed it, the Berkeley Journal of Sociology relaunched on October 1st. I'm part of the collective of Berkeley sociology grad students who worked this past year to re-imagine the BJS's mission, which ultimately led to the launch of a really great new website: berkeleyjournal.org — check it out! The idea is to publish articles that critically engage with unfolding events, political struggles, cultural trends, and so on — through a sociological lens. Our new tagline: "The point, after all, is to change the world." I'm currently sharing the managing editor position with my friend and colleague Martin Eiermann.
I also have an article in the new print issue of the BJS. My article, "Can Prefigurative Politics Replace Political Strategy?" is part of a forum on 'Power & Prefiguration.' Here's a teaser figure from my article: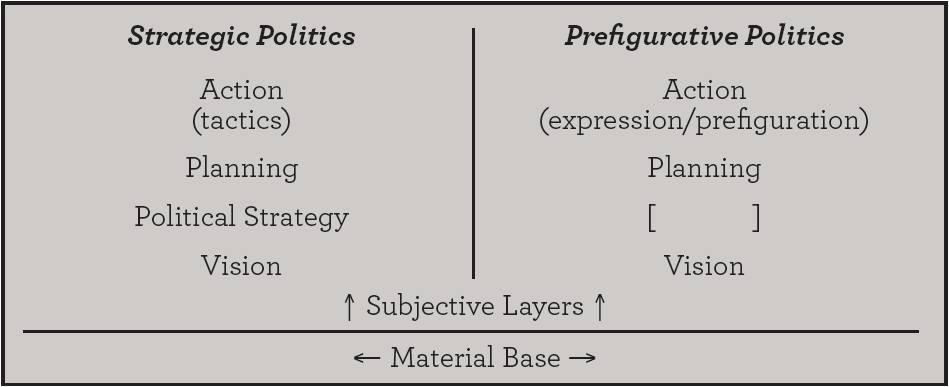 You can read the whole article online here, the rest of the forum here, or you can download a PDF of the print version of the forum here (It shows off the great layout of our new print issue).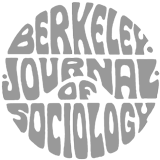 Finally, check back at berkeleyjournal.org on November 3rd for the second installment of articles in the Power & Prefiguration forum. And keep checking back weekly for new content. Maybe you'll even decide to submit something yourself?
Michael Premo and I have a piece in The Nation this week: "What's Wrong With the Radical Critique of the People's Climate March". We didn't write the title. Maybe a more accurate title—which I saw in a Tweet of the article—would have been "a radical critique of a radical critique of the People's Climate March." (Then again, as a title, that might have come off as sectarian/ultraleftist, which is exactly what we're taking issue with.)
We argue that "Radicals who are serious about political change—and not just engaging in self-righteous sideline critique—would be wise to learn" from the Climate Justice Alliance and Flood Wall Street's strategies in relation to the larger People's Climate March.
You can read the whole piece here.

Figure from a draft chapter of hegemony how to.
My latest article, published at Waging Nonviolence: The danger of fetishizing revolution.
What do contact with extraterrestrials, the return of Jesus Christ, apocalypse, and revolution all have in common? In a sense, they are all imagined redemptions — epic reset buttons for humanity. Onto these we can pin our heartbreaks and frustrations with the world as it is, with all its suffering, mire and messy details. Any of these redemptive apocalypses can serve as the X that solves the daunting problem of our sense of impotency. This messianic X — this unknown and imaginary seismic intervention — might help us to hold onto a kind of hope despite overwhelming evidence of a hopeless reality. Somehow, someday, something will occur that stops the madness, and we will be able to begin anew…
Read the full article at Waging Nonviolence.
With the relatively recent invention of the activist as a special category, non-activism becomes the implied norm. Non-activists—i.e., normal people—are excused from having to wrestle with the content of pertinent political issues and what remedial collective action might be taken, as activism is treated as a distinct realm unto itself—an elective activity in some ways equivalent to football, Burning Man, or World of Warcraft. Its political impotency is a general unstated assumption, and so its members are seen as value-expressive rather than political-strategic. Too often activists themselves feed this perception.
An example that epitomizes the tendency is the bumper sticker slogan "I'M ALREADY AGAINST THE NEXT WAR." Hardly a political intervention, this sad message proudly proclaims resignation to a future in which there are inevitably more wars, while the individual dissenter can celebrate their moral commitment to be there protesting tomorrow's wars as fervently and impotently as they protest today's.
My point is bigger than this one bumper sticker. Its message epitomizes the problem of settling for—even celebrating—a resigned self-expressive dissent. One of the biggest constraints any challenger movement has to overcome is widespread resignation; the belief that meaningful change is simply not possible, that the forces we are up against are far too powerful. To overcome popular resignation in our particular cultural context—I'm talking about the United States, especially since the 1970s—we have to recognize and strategize about negative stereotypes about "activism" itself; especially that "activists" are often seen as the righteous few crying out in the wilderness and, whether you love them or hate them, you're not going to bet the farm on their victory. Unless they can demonstrate that they have enough savvy to navigate the severe constraints before them; that they have a fighting chance of success.